4. The King's Birthday
On leaving the airport, we started seeing displays of the King of Thailand. They were often the only things lit up in the night's dark. The displays usually included a large photo or painting of the King, often surrounded by garlands of flowers or lights splayed out from the picture. The displays varied in size. Some on the side of a building were huge, and I wondered at the cost and time to put them up and keep them lit.
Later I found that we had arrived just a couple days after the King's 72nd birthday, a national holiday.
I have mixed feelings about the King of Siam (as Thailand was once known). As an egalitarian American, I'm rather repelled by the concept of royalty. Not the Thais, though. They truly do seem to love their King (and Queen).
Of course, if they don't, they know not to speak their opinions too loudly or they could end up in jail. Thailand still operates under the concept of lèse-majesté, as some have found to their regret: http://www.nytimes.com/2011/12/09/world/asia/us-citizen-sentenced-for-insulting-thai-king.html?_r=1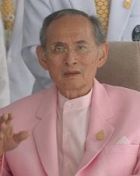 King Bhumibol Adulyadej has been on the throne for about the past 50 years. He has helped shepherd his country from military rule to civilian democracy. Apparently a decent man, with Everyman hobbies like photography and playing the saxophone, he's given every indication of trying to raise the standards of all his countrymen, not just his family. He was born in Massachusetts while his father was at Harvard Medical School, and is a friend of the West.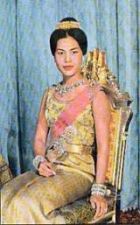 His wife, Queen Sirikit, now a fat grandma, used to be an exemplar of graceful Asian beauty. They've been married (happily, one hopes) for decades, raising four children into adults as well adjusted as royalty can be.
When I start to get too principled for my own good, I pause and think of some other royalty in the world (fortunately, the number of examples keep dwindling), and conclude you could do worse than these two.
(Update, December 2011. Thailand has gone through wrenching times since I wrote the above. The popularly elected prime minister, Mr Thaksin, was deposed in a coup and fled the country. Thais have fought pitched battles against each other and the military in the streets of Bangkok; hundreds have died. Mr Thaksin's sister was elected prime minister. Bangkok and areas around it have suffered catastrophic flooding.)
(Update, October 2016. The king dies.)
next: Jem's Old Home in the Village