15. Two Temples
Even one as unspiritual as me can see that Thailand's glory are its temples.
Some of them are renowned in Thailand, some beyond its borders, for their beauty. (http://www.tripadvisor.co.uk/Attraction_Review-g293916-d311043-Reviews-Temple_of_the_Reclining_Buddha_Wat_Pho-Bangkok.html and scroll through the photos).
Kind of how I love Gothic cathedrals, Thai temples also attract me by their Oriental exoticism.
And they're everywhere. You can't drive a few miles without seeing one, large or small. Then again, it occurs to me, that's not much different from the abundance of churches in Georgia. At least I haven't yet seen a Thai temple in a mobile home, storefront, or cinder block box.
On two mornings of our stay I took a walk by myself. Jem likes to amble, to stop and to chat, while I enjoy a brisk pace. The past couple years I've been wearing a weighted vest during my lunchtime walks. Accustomed to 30 pounds of weight, I found these country strolls effortless.
After Jem expressed a little pro forma concern for my safety, off I'd go.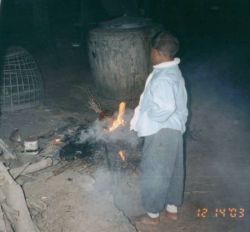 Neither walk was far. The first was to the main road 3 kilometers away, taken for no other reason than to enjoy the morning air.
I left early, at dawn, greeting villagers on the street, enjoying seeing the old men and children warming themselves around little bonfires to keep out the "cold" that went all the way down to maybe 55 degrees.
The walk was on a country road, narrow but paved. I walked facing traffic, of course, and enjoyed seeing a face light up with a surprised grin when I smiled and waved. They'll be talking about me for months. "You won't believe it, there was this old farang, and he was walking down the road as if he didn't have a car or even bus fare…. Walking for fun? They do that?"
The other walk, also about 3 km but in another direction, was to Temple Wat Bu. In the middle of fields, not part of a village, its only neighbor was a small general store where we'd picked up some building supplies a few days earlier.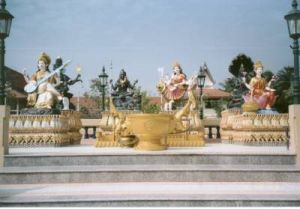 This temple (below) seemed new. Its white walls looked freshly painted, and other structures, like this very Hinduish panorama at left, were still under construction.
I was surprised by the expanse of the temple grounds and the size of the buildings. Clearly some money was being spent here, much more than the rice farmers of the area had to give. Jem later told me the funds came from other, richer temples in Bangkok. Maybe a head monk down there had come from this area, or maybe there was a nationwide organization of temples sharing the wealth of Bangkok with the rest of the country. Whatever the case, this temple seemed as out of place as a Mercedes in a trailer park.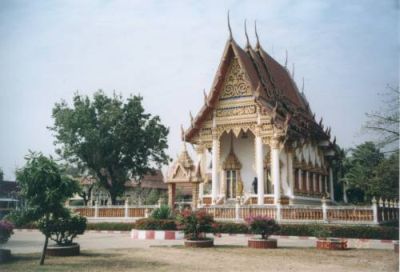 Another temple I went to was, of course, Jem's village temple, where the monks who walked the village for their daily meals lived. This is where Jem had gone to school as a child, where Jem's parents were cremated and interred.
Returning from Wat Bu one day, I was met by Jem and most of her brothers and sisters on their way to their temple. If I'd been a few minutes later returning home, I'd have missed them. Jem asked if I had any film left, then snatched me up into her entourage.
in the middle of a workday, the temple was largely deserted except for the monks who lived there and a few unfortunate souls who were mentally or physically unable to live by themselves. Jem and the monks talked as if they were old friends, which they were, of course. Food and cash was offered, the monks chanted prayers over the family, and all had a good time.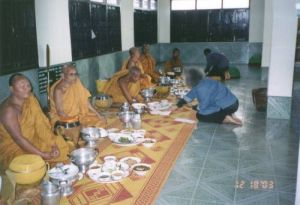 Seeing the statues of Buddha and other religious artifacts, there was no doubt I was in a temple. But the floor was not what I expected to see. It was a floor of shiny new blue-green ceramic, not wide wooden planks of teak burnished by thousands of bare feet over the decades. I was also surprised by a side room holding a rack full of modern electronics for the PA system's huge speakers. And frankly, I was baffled by one of the monks, a man in his 40s, who was packing a few dozen pounds too many. Ah, you, too, my friend, raiding the fridge at night?
Except for waiting outside the gate some mornings with the monk's daily meal, Jem's religious activities during our two weeks were limited to this one temple visit. Just right.
Of some interest to me was the large pond next to the temple, at least the size of a football field.
As a child, Jem would often make two or three trips a day to the pond, carrying water home in two cans or buckets slung on a pole over her shoulder. This ill-fed child was carrying about 80 pounds from the pond to her house. I paced it, 320 steps, about 300 yards. To this day, her strong shoulders have a valley where the pole dug in.
Today, water from a nearby river is pumped to the pond. Then water from the pond is pumped to a large elevated tank. This tank feeds all the village houses through underground pipes. The piping looks like simple CPVC, similar to the white plastic type we see at Home Depot, but blue. No matter the color, what a remarkable thing it is to turn a faucet and have water come out, and not have to carry it on your shoulders every day.
next: Visiting Cousin Loy