19. Back to Bangkok
Our last two days were spent in Bangkok.
We got there from the village by renting the same van that had picked us up at the airport. This trip was made in daylight, though, and gave me a chance to see much that was hidden in the dark two weeks earlier.
The streets were full of cars and people. No different than when I rode a motorcycle in Bangkok 30 years earlier, but now, to my surprise, horns weren't constantly blowing.
Back then we had to know only two rules of the road: 1) Use Your Horn to Save Your Brakes, and 2) The Larger Vehicle Has the Right of Way.
Apparently traffic laws (and Thai drivers) have matured in the past decades. I found drivers, at least on a leisurely Saturday, to be capable and courteous. Work days? We didn't stay long enough to find out, but I've heard it's not a pretty sight.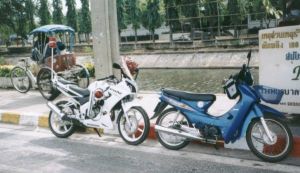 About driving in Bangkok:
-- You're not allowed to pump your own gas. More than to ensure payment, I guess it also helps to employ a lot of young uneducated men.
-- After two weeks in the countryside's fresh air, it was easy to smell/tell you were in the big city now.
-- Motorcycle helmet laws are usually obeyed, but sometimes in spirit only. I saw riders drape their helmets from the handlebars instead of wearing them.
We had reservations at an inexpensive hotel but Jem decided she wanted to be at Pratunam, a famous shopping area. In the Pratunam area Jem saw a sign for the Bai Yoke Hotel, where one of her friends in Augusta always stays, and that was as far as we got. Could have been worse: $40 a night for hot showers, air-conditioning, a good location, and what turned out to be an outstanding breakfast.
Walking out the hotel, you're in the middle of narrow alleys lined with small shops, all choked with people. Even the sidewalks on the large thoroughfares are lined with stalls. The range of products is depressingly similar: cheap clothes for young people, knick-knacks like combs and cigarette lighters, and costume jewelry.
It looked like all of Bangkok's teenage girls were crammed into this maelstrom of shoppers. At times, and this is no exaggeration, you could not move: the density of people in the small lanes made it impossible to take a single step in any direction. The narrow lane from the north tried to flow south at the same time as the south end was trying to flow north, and both flows ground to a halt. Heaven for a groper, I guess. Hell for a claustrophobic. Just an aggravation for me.
I say me, because Jem and I went out separately. We've learned it best not to try to match our walking or shopping habits, so we'd return to the hotel room with our own stories to share.
My plan the next morning was to take the SkyTrain to another famous market area, Mo Chit, at the other end of Bangkok. Mo Chit sounds like it could be a slang urban American description of the market. Nope. It's the real Thai name. (More about it in Chapter 21.)
Though I tried to persuade Jem to join me, she stayed put. Mostly she was afraid she'd throw up on the SkyTrain, as she did on the Metro in DC, but also, she said, she wasn't very interested in shopping. (Now? Now she's not interested in shopping?) But, I implored, forget shopping. Imagine how much of Bangkok we'll be able to see from the elevated train car's bird's-eye view.
And I was right.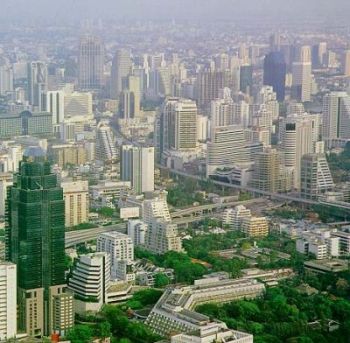 Bangkok astonished me. New office buildings and hotels are sprinkled throughout the city as if from seeds sown by a giant farmer, now sprouted and grown into impressive buildings. They are harbingers of prosperity and optimism – Build and They Will Come – and stand in clear refutation of my earlier skepticism and disapproval.
I saw similar construction in Seoul, and photos of Shanghai, Hong Kong and Singapore show even more remarkable progress. But Bangkok's skyscrapers are maybe the most remarkable: they're built on mud.
Back in 1970, the first tall building - that is, of more than ten stories - was built just a few blocks from where we lived. I remember the day I stood on the sidewalk to learn how the foundation was prepared. To this day, I still can't believe what I saw. Hundreds of tree trunks, stripped of branches, were being pile-driven into the earth by a large machine. Like a pack of pasta gripped in your hand, one stick next to another, the trunks went down until they hit bedrock.
Then the skyscraper's foundation was constructed over them.
Can this be true? How can you anchor a skyscraper with logs? What happens when the logs rot out ten or twenty years later? The many new buildings in Bangkok can't really rest on a bed of trees, can they?
But indisputable is that Bangkok backs up to the Gulf of Siam. Like New Orleans, it is built on a delta just a few feet above sea level. The annual monsoons regularly flood the city streets.
I just don't understand how the buildings stay standing.