Hole in Our Soul : The Loss of Beauty and Meaning in American Popular Music
by Martha Bayles (1996).
Why has popular music, maybe all popular culture in general, degenerated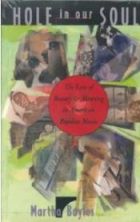 into the state of noise it's been in for the past 30 years? This book attempts to explain it in ways you'll find provoking and unsettling, at times pedantic, but mostly exhilarating. We get a tour de force ride through American music, from traditional jazz to punk rock and rap, and see how one style led to the next.
It's hard to remember reading another book that combined so much of scholarship and excitement. Sometimes I wish Bayles had given us a smaller but more accessible book. At times this one can be daunting, and can't convince anyone who won't get very far into its pages. But it's worth the effort to persevere, especially for those of us who came of age in the '60s, and for anyone who enjoys coming upon a perfect pearl of a phrase or a new way of seeing the familiar.
As one who struggles to express my own thoughts, I stand in awe at how well Bayles does it.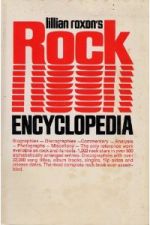 Rock Encyclopedia by Lillian Roxon (1969).
I first read this book about 50 years ago, when it came out, which gives an idea of how dated it is. I might be dated, too, as I still have a copy of the first edition.
If it's the golden age of rock you want to know about, this is the bible.
In the Country of Country: A Journey to the Roots of American Music by Nicholas Dawidoff (1998).
An enjoyable book, if not an indispensable one, where we learn about some of the roots of our country music tree.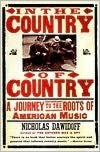 The author has a clear respect for this music, and to understand it better he spent much time with some of its legends, traveling to their childhood homes to talk with friends and neighbors. Young fans of modern country might not even know some of these legends: Harlan Howard (the great songwriter); Bill Monroe; Ralph Stanley; Earl Scruggs; Buck Owens; Emmylou Harris; Doc Watson; Iris Dement; and others.

Not a scholarly reference, it's only until you get to the Notes at the end of the book to realize how deeply the author seeped himself in his subject. His sources list many books, articles and videos, as well as many interviews.

Remarkably, this young man, in only his early 30s, a Harvard grad and raised in Connecticut (yeah, maybe southern Connecticut) was made welcome by so many whose backgrounds were so different. Maybe even more remarkable is that not until almost the book's end does he offhandedly say, in describing how one musician led him to another, "I met Emmylou Harris at Harlan's birthday party. Emmylou then took me along to Bill Monroe's birthday party. And so it went."

To have Emmylou Harris take you to a party and not tell anybody about it until page 315 ... now, that's class. As well as to have interviewed Paul Simon and Bob Dylan, and we learn it deep in the Notes, not on the cover.

My only complaint is in the artists the author chose to include and those he chose not to. I've never been a fan of George Jones the singer, and after reading about George Jones the person, think even less of him. I wish many more pages had been given to Emmylou Harris, and that Ricky Skaggs and Willie Nelson had been profiled, not just interviewed. In truth, country music has so many legends, it's hard to know where to begin in listing omissions. There's another book here waiting to be written.

I started the book knowing what it was about but not knowing which artists would be profiled. After starting it, I couldn't wait for my before-sleep reading, not knowing who would be up next ("Will he do Emmylou? YES!), but knowing this book would be waiting by the reading lamp for a brief time into a better place.
Do the old great violins like the Stradivarius really sound better? Read the results of a blind test, as reported in the Economist magazine, 12 January 2012.
How Music Works, by David Byrne (2012). While Byrne i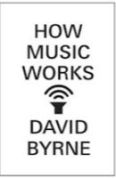 ncludes his own musical history, it's only to illustrate the history, the technology, and the business of making music.
Each chapter is an overview of subjects on which entire books have been written. Until we read those books, this one is a fine introduction. The chapters on getting paid for your music would be especially interesting to young musicians.
My only complaint is Byrnes granting too much respect to hip hop, a grating fraud on the public, instead of roundly condemning it for the deplorable trash it is.
The pages and cover, in the hardback version at least, deserve mention. The book is as much a pleasure to hold as it is a pleasure to read.
Songs of the Summer of 1963 . . . and 2013, by Juan Williams, WSJ, 27 August 2013
http://online.wsj.com/article/SB10001424127887324619504579028691595414868.html is the link to the essay, and includes over 200 comments, many worth reading.
In case the essay is behind a paywall, here it is again with what I hope is the permission and forbearance of the Wall Street Journal, to whom I owe gratitude for bringing the essay to us.
Fifty years after the March on Washington, mystical memories of that seminal moment in the civil-rights era are less likely to focus on movement politics than on the great poetry and great music.
The emotional uplift of the monumental march is a universe of time away from today's degrading rap music—filled with the n-word, bitches and "hoes"—that confuses and depresses race relations in America now.
The poetry of Aug. 28, 1963, is best on view when Martin Luther King Jr. went off his speech script and started using a musical, chanting reprise—"I have a dream." The transforming insight born of the power of the interracial gathering at that time of turmoil, combined with the power of the spoken word, created an emotional message that still grips the American mind.
"I have a dream that one day on the red hills of Georgia, sons of former slaves and the sons of former slave owners will be able to sit down together at the table of brotherhood," King said, in verse that somehow spanned a history of slavery and the Founding Fathers' uniquely American promise of equality.
"I have a dream that one day even the state of Mississippi, a state sweltering with the heat of injustice, sweltering with the heat of oppression, will be transformed into an oasis of freedom and justice. I have a dream that my four little children will one day live in a nation where they will not be judged by the color of their skin, but the content of their character. I have a dream today!"
That poetry rose above the reality that as King spoke the civil-rights movement was stalled. Few schools had integrated after the Supreme Court's Brown v. Board of Education decision nine years earlier. One hundred years after the Emancipation Proclamation, the Civil Rights Act was stuck in Congress. NAACP leader Medgar Evers had been killed in June. After a violent April in Alabama, in which protest marchers were beaten and set upon by police dogs, an estimated 15,000 more civil-rights activists had been arrested at protests across the country that summer.
King sailed past all those sad realities to invoke his soaring vision of the nation at racial peace. When he finished speaking, the crowd spontaneously broke into singing "We Shall Overcome," holding hands and swaying as if in communal prayer.
That sense of unity, promise and purpose was also evident in the music of the march. It's music that still stirs emotions to this day.
Bob Dylan's "Blowin' in the Wind," written in 1962, hit No. 2 on the Billboard charts just before the crowd gathered in Washington. When the folk-music trio Peter, Paul and Mary sang the song for the 250,000 people in front of the Lincoln Memorial that day, it became an interracial anthem for change. The song itself drew inspiration from two others: The lyrics brought to mind Woody Guthrie's "Bound for Glory," which included an allegory about newspapers blowing down city streets, and its melody came from a slave protest song called "No More Auction Block."
And so they sang in Washington: "Yes, how many years can some people exist before they're allowed to be free? Yes, how many times can a man turn his head, pretending that he just doesn't see? The answer my friend is blowin' in the wind, the answer is blowin' in the wind."
Sam Cooke, the black gospel and rhythm-and-blues singer began performing the Dylan song immediately after the march. He had been working on a song about the hurt he felt as a black man living with racism yet also with hope for better times. In December 1963, Cooke recorded "A Change Is Gonna Come." The song became a hit on black radio, another anthem of yearning for a nation without racial rancor.
"I go to the movie and I go downtown, somebody keep telling me don't hang around," Cooke wrote. "It's been a long time coming but I know a change is gonna come, oh yes it will."
The next year, in 1964, Curtis Mayfield—also openly inspired by the music of the march—wrote an even more hopeful song: "People Get Ready." It, too, picked up on a frequent image of American folklore, the train of salvation.
Just as Woody Guthrie and Johnny Cash had sung "This Train's Bound for Glory," Mayfield, a black Chicago singer steeped in church gospel music and the blues, sang about faith in the American struggle for racial justice.
"People get ready, there's a train a comin'; you don't need no baggage you just get on board . . . there ain't no room for the hopeless sinner who would hurt all mankind just to save his own. Have pity on those whose chances grow thinner. For there's no hiding place against the Kingdom's throne."
The uplifting lyrics made "People Get Ready" one of the earliest hits on both black and white radio. Bob Marley later used some of the words in his poignant song "One Love." Bruce Springsteen used the song as a healing anthem at concerts after the 9/11 terror attacks.
The songs by Dylan, Cooke and Mayfield have been ranked 14th, 12th and 24th on Rolling Stone magazine's list of greatest songs of all time. All three have roots in the March on Washington.
Now, half a century after the lyrical promise of that inspiring music and poetry, there is the inescapable and heartbreaking contrast with the malignant, self-aggrandizing rap songs that define today's most popular music.
In Jay-Z's current hit, "Holy Grail," he sings about "psycho bitches" and uses the n-word seven times while bragging that he is "Living the life . . . Illest [n-word] alive." Another top rapper, Lil Wayne, released a song in the spring with an obscenity in the title, using the n-word repeatedly and depicting himself as abusing "hoes" and "bitches."
Similar examples abound in the rap-music world and have persisted for years with scarcely any complaint from today's civil-rights leaders. Their failure to denounce these lyrics for the damage they do to poor and minority families—words celebrating tattooed thugs and sexually indiscriminate women as icons of "keeping it real"—is a sad reminder of how long it has been since the world heard the sweet music of the March on Washington.
Mr. Williams is a political analyst for Fox News and a columnist for the Hill. He is the author of "Eyes on the Prize: America's Civil Rights Years 1954-1965" (Viking, 1987).